Rewiring Makes a Difference
Kirsch Electric partners with you to revitalize your older house and to breathe new life into it.  We advise you about what could make your electrical system safer.  We also offer modern electrical solutions for you to consider.  As a result, you can sleep sounder knowing your electrical system is safe and also modernized.  Our ESA licensed technicians know the most efficient methods of household electrical wiring.
We offer:
Knob & Tube removal and replacement
Aluminum Wire treatment or replacement
Panel change and electrical service upgrades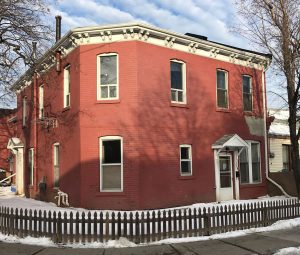 Knob & Tube  
Background
If you have purchased property or plan on selling one that is over 60 years old, it is likely there is still active knob & tube wiring.  That is, unless the house has been rewired in the recent past.  Sometimes property insurance companies will have insisted that wiring be upgraded.
Knob & Tube wiring was the early standardized method of electrical wiring in Canada until the 1950's.  It is a simple 2 wire system that utilizes rubber insulation and ceramic parts to protect wires that pass-through wood frames.
Why Remove Knob & Tube?
Rubber insulation becomes brittle and breaks down over time.  The wire covering deteriorates.  The tape that is used to wrap wire soldered together starts to fall off or deteriorate.
There is no grounding protection for equipment.  In other words, without a ground wire, there is nothing to divert stray electricity or prevent shocks and risk of fire.
Knob & Tube's 60 amp service does not meet today's minimum standard of 100 amp service.
Wires overheat.  Knob & Tube 2 wire system consists of a black or hot wire and a white or neutral wire to create a circuit. These circuits were installed in free-air cavities to help heat dissipate. The addition of insulation in ceilings and walls, inadvertently contribute to overheating and deterioration of wires.
Aging knob & tube can be dangerous because of cracked or broken tubes, sagging or frayed wires and broken sheathing that exposes live wires.
Existing knob and tube circuits are overloaded due to the demand of additional electrical loads.  Renovations and additions over the years that have combined old and new wiring systems are not safe. Consequently, this additional demand further deteriorates the electrical integrity of old wiring.
In addition to restoring your home or place of business to its former glory and making it safe, we can install new convenience outlets, efficient pot lights or perhaps kitchen under counter lighting.   For the home seller, we can provide you with a basic yet thorough rewire that is cost considerate with the end goal of increasing the selling potential of your house.
Process of Removal
Ideally it is best to rewire a property when it is vacant.  This allows our technicians to move through the house in a more expedient way.  However, this option is not readily available to everyone.  For this reason, we have developed an efficient system that minimizes disruption and cause minimal invasion to the home.
We offer a service to patch all small holes that we are required to make in walls or ceilings to fish/navigate wires.  Only painting of patches may be required by the home owner.  We are meticulous about preserving plaster ceilings.  Our technicians wear boot covers and use drop clothes to protect floors.  They also cover furniture and valued belongings with plastic to prevent unnecessary penetration of dust.  In the end, we take pride that the new wires appear to have been there all along.
At Kirsch Electric, we carefully review the wiring system and determine most efficient methods before we start each project. Then we communicate with home owners and take extra precaution before we begin our work.  In these ways, we can ensure that our work is done efficiently and safely.
We provide in-home written estimates at no charge. Our technicians are licensed with the Electrical Safety Authority (ESA).  Upon completion we provide an ESA Inspection Certificate. If requested, we also provide an official company letter that our customers can submit to their home insurance company which may potentially help with lowering home insurance premiums.
Contact us to learn more.