Every room in your home deserves beautiful lighting. Attractive home lighting fixtures are what make your space functional, inviting and unique. The addition or upgrade of lights creates brighter spaces and enhances the appearance and comfort of today's homes.
Our residential lighting options are decorative yet durable and practical.  We offer the option of wireless, electronic lighting controls, dimmers, recessed luminaires, ballasts, and a variety of lamp technologies and fixtures for home settings.  Our ESA licensed technicians can help you create the perfect lighting plan for your home.  Learn more about recessed lighting, LEDs, and under counter lighting below.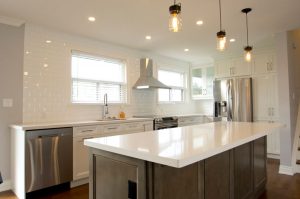 Recessed Lighting (Pot Lights)
Recessed lighting refers to fixtures that are set into ceilings or walls. With little or no profile, LED recessed lighting is ideal for both high or low ceilings and especially low ceilings often found in basement areas. Fully dimmable, these cost-effective lights provide effective ambient and accent illumination for both residential and commercial use. Recessed lighting offers a clean, streamlined look in a home. It can increase the amount of light in a room, highlight artwork or other special features, and open up spaces so they look and feel bigger.
Under Counter Lighting
Under counter lighting provides ambience as well as task lighting. At Kirsch Electric we provide linear LED strip fixtures with a low profile. These are cut to length to suite any cabinet dimension. We also provide LED puck lights that are surface mounted or recessed. Fully dimmable, these fixtures provide the highest lumens per square foot.
Exterior Soffit Lights
Few improvements make a positive impact on curb appeal like exterior pot lights. Installing soffit mounted LED pot lights easily makes your house stand out from the neighbors and makes you the envy of the block. Soffit pot lights greatly improve landscaping at night while at the same time improving home security. A well-lit exterior is a visible deterrent for break-ins.
Call Kirsch Electric now for a no-charge, no-obligation estimate and take that first step to a brighter and safer home.
Don't Forget About Switching
It is worthwhile to consider how and when lights are to turn on. For example, lighting in areas with low traffic may best be controlled by occupancy sensors; lights turn on and off automatically. Lighting levels in TV rooms can be controlled with a dimmer. Exterior lights can be switched with a photocell and/or timer. At Kirsch Electric we offer a variety of dimmers, sensors, timers and daylight sensing controls to help you manage light levels as well as hydro costs.